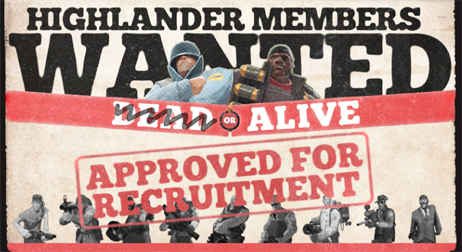 AJSA Strikes into competetive !
This Saturday 6 BST Highlander Try-out's are finally starting !
People who Signed up are going to have priority to pick their class.
We are going to be using
www.tf2center.com
, so make sure you meet minimum requirement 100h on TF2 and you are logged in.
The Rules!
THERE CAN BE! ONLY ONE!! Of each class! That's right, no teams that consist of 3 snipers, 2 spies, 2 scouts, 3 engineers, and one
Soldier. It's all of one class only making up a team of 9 mercs! Each member of their team must use their strengths to help each other out in order to cap points faster, push the cart faster than the other, defend harder, and win together! Each group consists of one of these classes, and ONLY ONE, no more and no less( 1 player for region):
Scout

Soldier

Pyro

Demoman

Heavy

Engineer

Medic

Sniper

Spy

Sincerely,
Team Fortress 2 staff
---