Indie developer tries to pull a Bethesda, Felipe Pepe writes about learning over 40 years of game history, Mike Diver speaks to Zelda series producer and director Eiji Aonuma, negative effects of health care repeal on developers, UN is getting interested in games, Kickstarter for Banner Saga 3, Joseph Anderson talks about Fallout 4 and how to better realize the game's potential, the cost of developing Easter eggs, writing on relationships between characters in FFXV and Last Guardian, South Sudan gets its first Global Game Jam, new trailer for Call of Cthulhu and developers working on a Werewolf The Apocalypse game, road to IGF developer interviews, interview with the man that fixed Fallout 4's toilet paper, a look at the influence glitches have had on the fighting game genre, the story of the Sega SG-1000, and more.
Gaming News (Announcements, release dates, previews, interviews, expansions, DLC, updates, company news, new tech, mods)
GDC State of the Game Industry 2017
Quote

We polled more than 4,500 attendees of the Game Developers Conference to shed light on the industry leading up to GDC 2016 and VRDC@GDC in San Francisco.
Tim Sweeney earns the Game Developers Choice Lifetime Achievement Award
Quote

Sweeney is the founder of Epic Games and creator of the Unreal Engine.
Nintendo Switch Won't Support Netflix at Launch - Report
Quote

According to a new report, the Nintendo Switch will not support Netflix at launch in March.
The Switch's Launch Lineup Is Getting Beefier
Quote

The Nintendo Switch's launch lineup was initially a disappointment for people who wanted more than five launch titles. Nintendo fans were complaining that, in fact, the only "real" launch title for the Switch is Legend of Zelda: Breath of the Wild. It makes sense—the Wii U, Wii and 3DS all launched with more.
Japanese Nintendo Switch buyers can customize their console's colors
Quote

Customers of the Japanese My Nintendo store can design their own Nintendo Switch bundles, starting Jan. 23. As seen on the Nintendo Topics blog, My Nintendo members can pick and choose just how many colors they want their Switch to arrive in on launch day, and they'll receive some My Nintendo points for their trouble.
Nintendo Switch UI gets new close-up in deleted tweet
Quote

Also, hey, looks like Cave Story is coming to the Switch!
Totaling the hidden costs of owning a Nintendo Switch
Quote

The Nintendo Switch is launching March 3 for $299.99, and Nintendo says it had to make some tough decisions in order to reach that price. Everything you need to get started is included in the box, such as a pair of Joy-Con controllers and a docking station.
Nintendo Switch is leaving these Wii U features behind
Quote

Everything Nintendo's ditching or downplaying with its new console
Nintendo Answers (And Avoids) Our Switch Questions
Quote

Last week, just after the Switch event, we sent Nintendo a bunch of questions about their new hardware, which launches on March 3. Today, Nintendo sent back responses. Here's the full list, complete with Nintendo's answers (and non-answers):
Nintendo Switch: Everything we still don't know
Quote

There's just a few more weeks to go
Nintendo Switch Predicted To Sell 40 Million Systems By End Of 2020
Quote

By comparison, the Wii U sold around 13 million units over its first four years.
Nintendo Switch Ain't for Mom and Pop—It's for Die-Hard Fans
Quote

NINTENDO IS AIMING for a very specific audience with its new console Switch.
Xbox One's upcoming copilot feature will let two players share one controller online
Quote

We've written about the Xbox One's upcoming Guides update before, which will make the shortcut Guide menu appear with a single tap of a button. This brings you to a mini-menu on the left frame that offers shortcuts to the home screen, your library, the Xbox marketplace, recently played games, background music and pins. What we hadn't seen until now is a new copilot feature, which will allow two users to share one controller.
Mordheim: City of the Damned developer to bring Necromunda to PC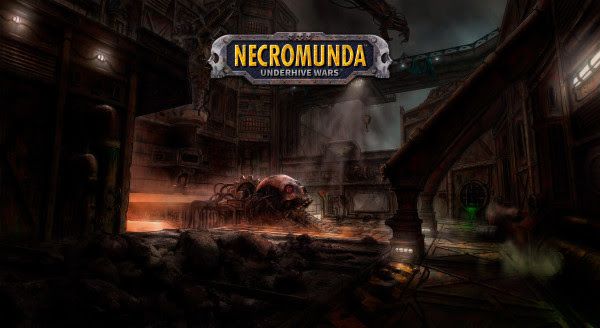 Quote

The classic Warhammer 40K tabletop will be adapted as a turn-based tactical RPG.
Obsidian teases something called "Project Louisiana"
Quote

What could it be? A new RPG, maybe?What could it be? A new RPG, maybe?
Call of Cthulhu trailer is crazy in the coconut
Quote

I am glad to see that no one punches a shoggoth in the eyes in the new trailer for Cyanide's Call of Cthulhu [official site], neither does our hero quip "I know your da sells Avon so what's your excuse?" nor rack a shotgun and declare "It's time to kick ass and take names, but I'm not sure if you prefer 'Shub-Niggurath' or 'The Black Goat of the Woods with a Thousand Young' or…?" No, generally the private eye investigating a mysterious murder on a misty island mostly seems to be losing his mind, as well he should when encountering forces from beyond the stars. Have a look
White Wolf bringing Werewolf: The Apocalypse to PC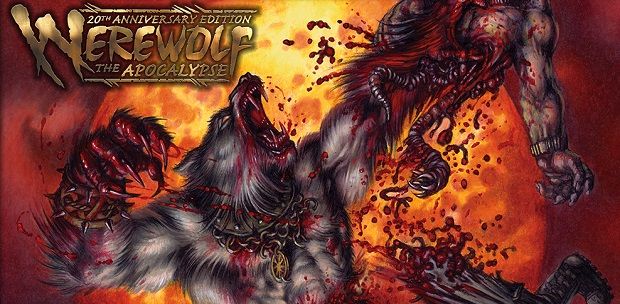 Quote

When Paradox bought World of Darkness creators/publishers White Wolf back in 2015, I immediately started thinking of the games they'd make. A Vampire: The Masquerade grand strategy game along with a sequel to RPS favourite Bloodlines perhaps? Or how about those Werewolves? Well, today White Wolf have announced a Werewolf: The Apocalypse game, but it's not coming from Paradox. It'll be published by Focus and developed by Cyanide, who are currently working on a Call of Cthulhu game. We'll learn more about both games early next month, but the few Werewolf details already available are below.
Atlus Brings Two Utawarerumono Games West In 2017
Quote

Uta-wa-re-ru-mono. The name of the adult tactical role-playing visual novel series is a bit tricky to pronounce, but I'm sure we'll have it down by the time Atlus is done releasing Utawarerumono: Mask of Deception and Mask of Truth for North American and European PS4 and Vita this year.
Torment: Tides of Numenera trailer teases choice-heavy combat
Quote

Techland and inXile's Torment: Tides of Numenera has spent the last couple of months ramping up its trailer presence ahead of its February 28 launch date. The latest explores its combat which, much like its core inspiration, Black Isle's Planescape: Torment, is typically choice-heavy.
9 minutes of Torment: Tides of Numenera PS4 Gameplay
Quote

Chris and Bertie take a look at Torment: Tides of Numenera running on the PS4, with its new interface, ahead of next month's launch.
Torment: Tides of Numenera preview – A classic series reborn for Xbox One
Quote

Role-playing experiences have always been a huge component of the games industry, pushing unmatched narratives and character development built around the player. However, with the genre having undergone significant changes over the past decade, many titles continue to move away from the immersive, tailored storylines which once made them unique.
TORMENT: TIDES OF NUMENARA PREVIEW - 2017'S MOST PROMISING RPG YET?
Quote

Good and evil without a single stroke of the sword.
Three bizarre sci-fi tales from Torment: Tides of Numenera
Quote

In our hands-on with a new section of Torment, we encounter wet mouth portals, mutant orb friends, and a deadly jar of wind.
Quote

Dead Cells is a roguelike, Castlevania-inspired action-platformer, allowing you to explore a sprawling, ever-changing castle… assuming you're able to fight your way past its keepers. To beat the game you'll have to master 2D souls-like combat with the ever present threat of permadeath looming. No checkpoints. Kill, die, learn, repeat.
Take me on: Take On Mars official release 9 Feb
Quote

Bohemia Interactive's Mars 'em up, Take On Mars [official site], is launching out of Early Access and into full game status on 9 February.
World of Horror, A Scary Game For The 1980s
Quote

World of Horror, or Kyofu no Sekai, is an indie game inspired by the works of acclaimed manga artist Junji Ito. We played through the demo, where we solved some mysteries, met a nice dog, and died as the Old Gods returned to this world.
Halo Wars 2 feels like a return to the C&C era of real-time strategy
Quote

Two videos on Halo Wars 2: one dives into campaign and multiplayer impressions, and the other is raw 1v1 gameplay.
We Are Chicago, a game about living in a tough neighborhood, will be out on Feb. 9
Quote

Family drama also has a new trailer
Injustice 2 is getting an online beta
Quote

NetherRealm's DC fighting game, Injustice 2, will get an online beta test for PlayStation 4 and Xbox One, the developer confirmed today. NetherRealm is now accepting registrations for the beta via the game's official website.
Ex-BioShock dev's horror game Perception is coming to PS4
Quote

Back in 2015 a handful of former BioShock and Dead Space developers announced an ambitious horror game about a blind woman called Perception. Now that game is confirmed for a PS4 release via publisher Feardemic.
Zelda fans uncover Breath of the Wild backstory from Special Edition map
Quote

Dedicated Legend of Zelda fans have uncovered a detailed backstory for Breath of the Wild, hidden on the reverse of the game's Special Edition map.
The Legend of Zelda: Breath of the Wild Will Require a 3GB Install on Wii U
Quote

The new Zelda game requires storage space on Wii U whether you download it or pick up a disc.
A Conversation with Zelda Veteran and 'Breath of the Wild' Producer Eiji Aonuma
Quote

Aonuma's been a part of Zelda since 'Ocarina of Time', and is the ideal person to tell us about latest game's vast world and the possibility of a future gender-swapped Link.
Nostalgic shooter Strafe gets a March release date
Quote

Doom-like shooter aims a return to the '90s
Ultimate Marvel vs Capcom 3 release date set for PC
Quote

As was announced alongside Marvel vs Capcom: Infinite's reveal last month, Ultimate Marvel vs Capcom 3 is heading to PCs this year—some five and a bit years after landing on PS3 and Xbox 360 consoles. Now, it's got a concrete launch date: March 7, 2017.
Inside and Limbo developer's next game looks as dark as its forerunners
Quote

Playdead—the creators of last year's dark and minimalistic platformer Inside, and 2010's similarly bleak monochromatic 2D adventure Limbo—has teased its next game.
Watch a grown man kick a child in the face in the Tekken 7 release date trailer
Quote

KAPOW! Tekken 7 is coming in June.
NieR: Automata details amusement park, submerged city, unarmed motions, mounts, fishing, and jukebox
Quote

Square Enix has shared first details on the abandoned amusement park area in NieR: Automata first introduced at Taipei Game Show 2017, as well as information about another area and other game elements.
Necrobarista is about hipsters, baristas, and death
Quote

You know how, sometimes, games look so good you just want to eat them? You want to print out all the screenshots in glorious, glossy photo paper, and just put them into your mouth? You know that feeling? Yeah, that's how I feel about upcoming visual novel game Necrobarista.
For Honor: Viking Gameplay Intro (Classes, Controls, and More)
Quote

This video series is a paid for sponsored advertisement for the game For Honor. Any views or opinions expressed in this video are mine and mine alone and are in compliance with FTC regulations.

Jirard "The Completionist" Khalil delves into the lore and classes for the game For Honor in a sponsored video by Ubisoft. Come learn the basics of what you need to know to excel in the Beta of For Honor.
Might & Magic Showdown lets you paint your champs
Quote

The trailer for the new Might & Magic Showdown [official site] is either the most unabashed celebration of childhood nerdiness or a sly reminder of our collective arrested development. I'm going with the former, because I am a giant smiling child. Incidentally, this magical battling arena is now early accessible, and most importantly, there's also a free standalone game called the Paint Workshop that lets you paint the miniatures with tiny virtual brushes.
I'd rather paint Might & Magic: Showdown's figurines than play the game
Quote

The PvP arena game just hit Early Access, with a separate painting tool free.
Hunt those monsters with Toukiden 2 on PC in March
Quote

Toukiden 2 [official site], a follow-up to the Monster Hunter-ish action-RPG, will indeed be coming to PC.
Malicious Fallen launches February 21 in the west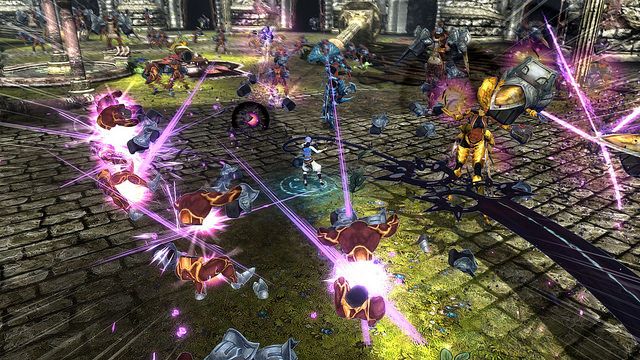 Quote

The definitive Malicious collection.
Berserk and the Band of the Hawk details 'awakening' abilities alongside new screens
Quote

Ahead of launch next month.
SWAT 4: Gold Edition is now on GOG
Quote

Irrational's great tactical police shooter is finally back in action.
Mass Effect: Andromeda "Running Awesome" Right Now, BioWare Says
Quote

Producer Michael Gamble kicked things off with an image of the game on Xbox One. Someone asked how the game is performing on Microsoft's console and he replied, "Running awesome."
Murder puzzle game The Sexy Brutale coming in April
Quote

Time-looping murder mystery The Sexy Brutale is coming out on April 12, according to an announcement and trailer from UK developer Cavalier.
Cultist Simulator Makes Running A Cult Into A Fun Time
Quote

Cultist Simulator is a "one person boardgame" from Alexis Kennedy, creative director and lead writer on Sunless Sea and Fallen London. It's a fun, tactile game of studying the dark arts and performing human sacrifices.
PS4 Fans Are Baffled As To Why Sony Is Promoting Crappy-Looking Games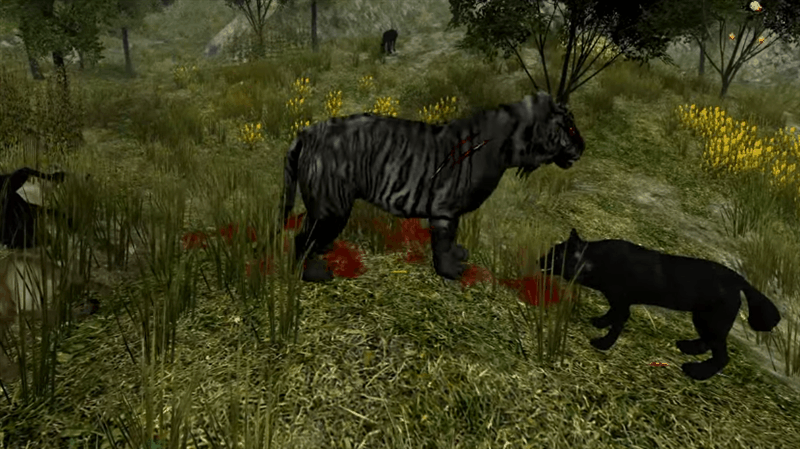 Quote

Earlier this month, the official PlayStation YouTube account uploaded a trailer for a game called "Life of Black Tiger." The mature adventure game, which appears to be a port of a free mobile title, looks like crap—but it has sparked a discussion over the quality of games that players expect to see on consoles.
The 3DS Is Getting A New Fire Emblem Game
Quote

Nintendo just announced that the latest installation of Fire Emblem, Fire Emblem Echoes: Shadows of Valentia, will be released on May 19th for the 3DS. The new game is inspired by Fire Emblem Gaiden, which was released only in Japan in 1992.
Fire Emblem Echoes: Shadows of Valentia may have a big learning curve for modern fans
Quote

Fire Emblem Gaiden was the series' Zelda 2
Doubt I would be a fan of the other changes but I would love to see the marriage feature removed from the series.
Fire Emblem: Heroes Is A Collectible Character Strategy Game For iOS And Android [UPDATE]
Quote

Arriving on Google Play and iOS on February 2, Fire Emblem: Heroes is a mobile turn-based tactics role-playing game in which players gather an army of iconic characters from across series history.
Nintendo's Mobile 'Fire Emblem' Is a 'Gacha' Game, Here's What That Means
Quote

If there was ever a franchise to take advantage of this popular way of making money on smartphones, it's 'Fire Emblem.'
Endless Space 2 - The Horatio - Prologue
Yooka-Laylee unveils local co-op and multiplayer in-game footage
Quote

Partner up when Yooka-Laylee lands in April.
Bossa's new game Decksplash promises a 3-on-3 mix of skateboarding and Splatoon
Quote

Surgeon Simulator developer says it will be the studio's first game "with actual good controls."
Ghost Recon: Going to war against a devout drug cartel
Quote

How Ubisoft's largest open world game puts an obscure folk religion at the center of its campaign
Tom Clancy's Ghost Recon Wildlands Gameplay: Single Player Walkthrough (Feat. 3 AI Teammates)
Quote

Watch the first single player walkthrough for Ghost Recon Wildlands which highlights gameplay with 3 AI teammates.
The Division: Last Stand trailer teases livestreamed reveal coming tomorrow
Quote

Ubisoft hasn't said much so far about Last Stand, the upcoming third major DLC release for its third-person shooter The Division, except that "you and your squad must prepare to defend against a relentless foe." But a full reveal is set to be livestreamed tomorrow, January 19, and ahead of that it's given us a brief teaser to watch and ponder.
Mon then! Total Warhammer unleashes The White Dwarf
Quote

It's now safe to simply swing by Steam and download The White Dwarf as a new Legendary Lord for the wee fellas.
Duelyst is getting singleplayer boss battles
Quote

The tactics card game is getting single-player content and free cards.
Dishonored 2's New Custom Difficulties Give You A Lot Of Options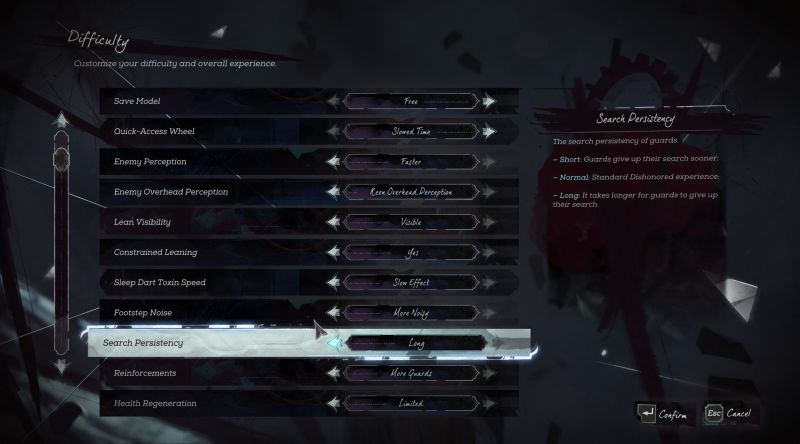 Quote

Today, the PC version of Dishonored 2 got a beta update that adds new custom difficulty settings as well as options for mission restart and mission select. Those custom options are a welcome addition—if you're still playing Dishonored 2, chances are you'd like to be able to fine-tune how much noise your footsteps make.
The Division 1.6 update will nearly double the size of the Dark Zone
Quote

The update will also add new Contamination events and a Legendary difficulty level.
The Division's next big expansion is coming to PS4 and Xbox One at the same time
Quote

The Division's third big expansion, Last Stand, is coming out on PS4 and PC at the same time as Xbox One, following a period of timed exclusivity for Microsoft's console which covered the first two add-ons for Ubisoft's game.
Battlefield 1 DLC Reveal Coming Next Week, Watch A Teaser Now
Quote

It won't be long until we know a lot more about They Shall Not Pass.
Battlefield 1's first DLC revealed: four maps, two vehicles, and a new mode
Quote

The first Battlefield 1 DLC, They Shall Not Pass, releases in March, and today EA revealed exactly what'll be in it. The biggest deal are the new maps, of which there will be four: Verdun Heights, Fort Vaux, Soissons, and Rupture (see details on each at the bottom of this article).
Dark Souls III: The Ringed City DLC Announcement Trailer | PS4, XB1, PC
Quote

Fear not the dark, ashen one. Journey to the world's end to search for the Ringed City and encounter new lands, new bosses, new enemies with new armor, magic and items. Experience the epic final chapter of a dark world that could only be created by the mind of Hidetaka Miyazaki.
Resident Evil 7 DLC begins rolling out next week on PS4
Quote

Resident Evil 7 launches today, but you won't have to wait long for even more survival horror.
Overwatch 'Year of the Rooster' is coming next week
Quote

The event kicks off shortly before Chinese New Year.
Bringing Capture the Flag to Overwatch was harder than you think
The Woes of An Overwatch Player Who Keeps Getting Reported For Playing Widowmaker
Quote

For weeks now, I've been hearing stories from people who say that picking Widowmaker in Overwatch matches opens them up to harassment from teammates, even if they're just playing for funsies. I've had people complain to me about the constant insults and slurs that they get for picking Widowmaker, and one reader even admitted that they can't see Widowmaker on attack without immediately messaging that player to urge them to switch characters. Social etiquette has emboldened Overwatch players to constantly monitor and micromanage heroes picked by the friendly team, and the experience can be awful for everyone involved.
Nerfs to Ana and D.Va finalized, will hit Overwatch soon
Quote

Sombra also gets a small buff, along with the Roadhog's "Hook 2.0."
Sex Game Removes Intense BDSM Scene Following Fan Feedback
Quote

"The original goal of the scene was to demonstrate a darker—certainly not safe IRL—fantasy to contrast with the safety of the Beauty's arc. But even after multiple revisions, clearly a lot of players were extremely uncomfortable with its presence, and still ended up being blindsided—I think I failed to account for the player's context, and I'd rather the scene be gone than make anyone else uncomfortable."
Ubisoft teases Rainbow Six Siege DLC Operation Velvet Shell
Quote
Deus Ex: Mankind Divided DLC A Criminal Past is coming in February
Quote

The story DLC tells the tale of Adam Jensen's first mission for Task Force 29.
Final Fantasy XV update to add monster enyclopedia
Quote

A future Final Fantasy XV update will add a monster encyclopedia of some sort, director Hajime Tabata has confirmed.
Final Fantasy 15 Director Discusses Upcoming Single-Player Updates And DLC
Quote

Square Enix has announced its DLC plans for Final Fantasy XV, which include a series of single-player episodes focusing on Noctis' companions. The company has also announced it will be providing "gameplay enhancements" addressing chapter 13, specifically.
Dying Light adds eye-tracking for extended views, auto-climbing and zombie awareness
Quote

I'd agree with Chris' evaluation of zombie survival 'em up Dying Light in that, yes, there is a lot of fun to be had that's ever-so-slightly ruined by a clunky story and the odd technical issue.
Announcing our next FREE DLC - Lorebook!
Quote

Once released, hidden and strewn around the various missions of Vermintide and its DLCs, you will find unique Lorebook pages. By picking up a page of the Lorebook, you will slowly unlock the story behind the various locations, enemies and even the Heroes of Ubersreik.
Russian publishing giant picks up Crytek's FPS Warface
Quote

A Russian-owned publishing giant has picked up Crytek's free-to-download first-person shooter Warface.
Xbox One Sales Are At 26 Million Units Worldwide, SuperData Estimates
Quote

While Microsoft won't give us sales numbers for their console themselves, instead opting to share other metrics that they feel are more relevant to their business, we do get an update on the console's sales every now and then anyway. Other sources, such as third party publishers, and analyst and tracking firms, usually update us on an estimated total for the Xbox One's worldwide sales infrequently.
Oculus lawsuit may undercut VR industry, not just Facebook's bottom line
Quote

Expert says they might be able to stop Rift sales
Oculus lawsuit drops Palmer Luckey on stand to defend story of Rift's inception
Quote

Dallas - ZeniMax's attorneys spent much of the day questioning Oculus co-founder Palmer Luckey under oath, seemingly with a singular goal in mind: to fluster the young entrepreneur.
Electronic Arts announces dates for EA Play 2017
Quote

EA's event is moving to Hollywood
Portal, Left 4 Dead Developer Kim Swift Joins EA
Quote

EA hires the industry veteran to work at Motive Studios as a design director.
On its 10th birthday, Viking Squad dev Slick joins forces with Klei
Quote

The folks at Slick Entertainment published a blog post today celebrating ten years in business and announcing a big change: the studio is joining fellow Vancouver-based indie studio Klei Entertainment.
As 'Games Done Quick' Gets Bigger, So Do Its Controversies
Quote

Six years ago, Awesome Games Done Quick started as a small outfit of speedrunners who played games to raise money for cancer prevention. Since then, AGDQ has ballooned into a big event: this year alone, viewers donated $2.2 million dollars for a good cause. The added visibility has brought new challenges, as runners and organizers butt heads over rules that dictate what is banned from the event.
The U.S. video game industry pulled $30.4B in revenue last year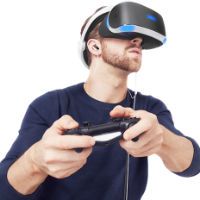 Quote

The American video game industry generated slightly more revenue in 2016 than the year before, according to data released by the Entertainment Software Association and the NPD Group.
Co-Founder Of Inside Creators Gets $7 Million After Business Breakup
Quote

A messy split between the two co-founders of the game studio Playdead left one partner departing with roughly $7.2 million after being forced to exit, according to new details that emerged this week.
Former Disney studio Avalanche Software re-opens under Warner Bros.
Quote

Currently at work on Cars 3
DEVELOPER THREATENS TO BLACKBALL MEDIA OUTLETS THAT GIVE NEGATIVE REVIEWS
Quote

The video game industry is a tough business. For every developer and publisher, one single thing reigns supreme as to whether their game sinks or swims: the review score. While I don't relish reviewing games poorly and assigning low scores, it's the job of the critic to provide a fair and reasoned assessment of a game. It is not the critic's job to go out of their way to protect creator's business interests.
Developer admits "we screwed it" after game website exposes review blacklist threat
Quote

"Lesson learned."

"Also, the guy who wrote that message is being tortured in the basement now."
GDC State of the Industry: For the first time, devs favor Android over iOS
Quote

Results from the fifth annual Game Developers Conference State of the Industry Survey are in, revealing trends in the games industry based on the feedback of more than 4,500 game developers ahead of GDC 2017 in February and March.
Here's why the UN is getting interested in video games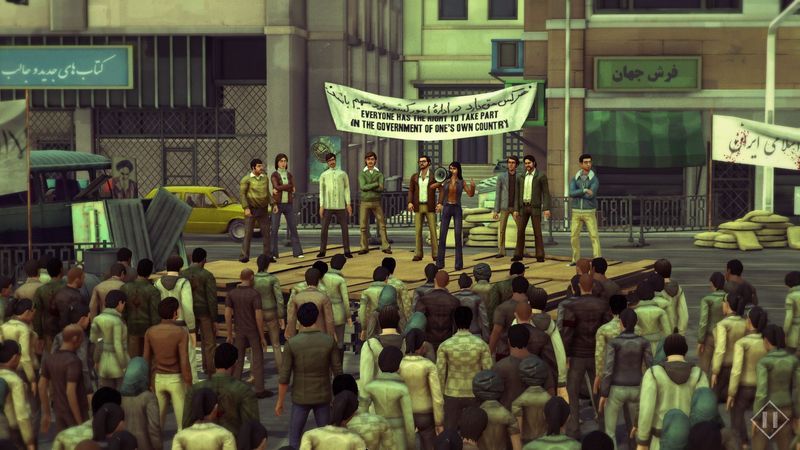 Quote

New report praises games that build understanding

He's also the author of a new report commissioned by UNESCO (United Nations Educational, Scientific and Cultural Organization) which seeks to find ways in which games can be used to foster empathy and understanding around the world.
War-torn South Sudan gets its very first Global Game Jam, despite UN warnings of genocide
Quote

As violence escalates in the worlds youngest nationstate of South Sudan, an unexpected event has popped up; the countries' very first Global Game Jam in capital city Juba. I spoke to organizer Lual Mayen to ask him how he went about organizing such a lighthearted event in a country that's on the brink of a "Rwanda-like" genocide, according to the U.N. Human Rights Council.

The 24-year-old Mayen is founder of JUNUB Games, a South Sudanese community of game developers, artists, designers, games lovers, and coders that he founded in September of 2016. His goal with JUNUB Games is to "create games for peace building," Mayen told me in a chat on Facebook

His reasoning is clear. "Since most of the youth are the ones playing the games and they are the ones involved in the war, as the population of the country is 75% youth."
PlayStation is sponsoring a Liverpool-based bootcamp to get young girls into tech
Quote

New bootcamp focusses on 11-14 year old teens
Streamer numbers and incomes are rising healthily, according to data from popular tool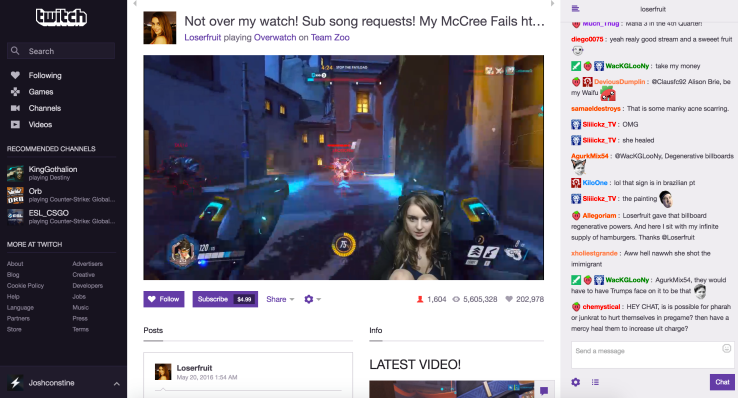 Quote

While half the world is coming to grips with the idea that people actually want to watch others play games, the other half is watching people play games. Streamers, watchers, and tips from the latter to the former are all increasing at a good clip, according to streaming companion service Streamlabs.
The flawed report that made erroneous claims about violent video games
Quote

An academic report claiming that playing shooting games helped improve real life marksmanship has been retracted due to irregularities in its cited data.
XCOM 2: The Long War mod is bigger than we thought
Quote

Extra mission types and a new world map will expand the game dramatically
The Long War 2 mod is a must-play reinvention of XCOM 2
Quote

New classes, weapons, and a reworked campaign map successfully refresh this excellent strategy game.
Superhot meets Portal in the wonderful PORTALHOT mod
Quote

A neat #MAKEITSUPERHOT contest entrant.
Esports News
The Weekend In Esports: League of Legends and Genesis 4 Return
Quote

Coming off of last weekend's excess in China with the WESG 2016, it's back down to business with the start of some cutthroat action in both Counter-Strike: Global Offensive and Smash Bros. Oh, and competitive League of Legends finally returns this weekend!
Smash Bros. Players Infuriated Over Surprise Rule Tweak At Big Tournament
Quote

Although Super Smash Bros Melee closed out this weekend's Genesis 4 with a bang, a cloud of controversy hangs over the tournament due to rule complications during the Super Smash Bros. for Wii U finals. The competitors most affected are looking for answers and, perhaps most surprisingly, compensation for the match errors they encountered.
Assessing the impact of League of Legends' new ban system
Quote

Changes to picks and bans promise a very different LCS.
Fighting game community in a flap over Killer Instinct teabagging ban
Quote

So, why ban something so silly as teabagging? It's important to note that last year's Killer Instinct World Cup carried a similar ban, but it was reiterated this year after things got ugly on Facebook.
Why You Should Care About Rocket League as an Esport
Quote

Rocket League's growth as both a game and an esport has been phenomenal. Psyonix announced this week that the game has over 25 million players, making it easy to understand why Sony said it was the most downloaded PSN Store game in 2016. But that's not all—Valve put Rocket League in the platinum tier of it's top 100 grossing games of 2016. And, since the game's release in 2015, over 1 billion matches have been played with 50% of those being ranked competitive games.
UCypher from USports Will Be India's First Major Esports League, Uses Franchised Team Structure
Quote

India is not known for it's esports but with the launch of UCypher by USports, this should change. USports currently runs the Pro Kabaddi League—a team contact sport native to the subcontinent—and esports will be the next venture of the company founded by Ronnie Screwvala.
Big Ten Collegiate Sports Conference Announces Riot Partnership, Championship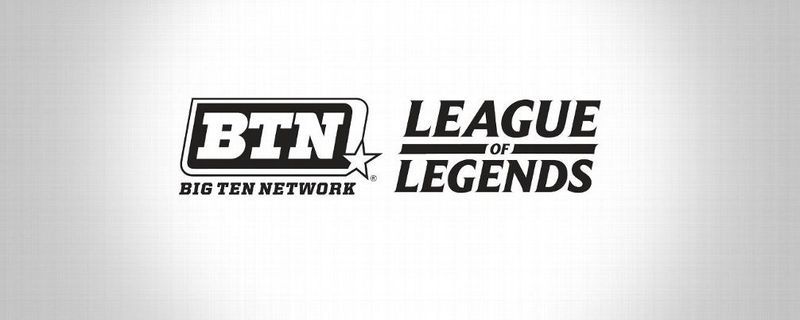 Quote

Following an invitational last year, the Big Ten Network has announced a partnership with Riot Games to run a League of Legends league for the collegiate sports conference. The winner of the BTN league will go on to compete in Riot's Collegiate Championship in late March.
Cloud Gaming Service LiquidSky Takes Aim at Esports: 'We're Prepared to Meet Pro Gamers' Needs'
Quote

LiquidSky, a still-in-beta cloud gaming service, recently made some big news at CES—including the announcement of an ad-supported free plan for its users, set to go when the service leaves beta in March. But that's not all: the company is aiming at having a big role in the esports industry.
Dota 2 Pro Makes Clutch Play From Beyond The Grave
Quote

Ludwig "zai" Wåhlberg probably didn't expect to stumble into the entire enemy team while near his home base in the dwindling minutes of the Pit League Season 5 quarterfinals, but it didn't matter either. Some quick thinking allowed him to secure the win for Evil Genius even after dying.
Crowdfunding News
Quote

The conclusion to the award-winning series of mature, story-driven, turn-based strategy games steeped in Viking culture.
BEAUTIFUL DESOLATION - Isometric Post-apocalyptic Adventure
Quote

From the makers of STASIS comes a post-apocalyptic adventure game set in a world you have never seen before.
Hellpoint Teaser - A Dark Sci fi Action RPG soon on Kickstarter
Quote

Introducing Hellpoint, a dark augurist action RPG for PC and consoles, brought to you by Canadian developer Cradle Games. Embark on a soul conjuring journey aboard a derelict space station and figure out the twisted series of events that led to an occult quantum catastrophe. Hunt, or be hunted by insane mobs, decadent daemons, and deep space monsters, all under the constant watch of the black hole.
Fig raises $7.8 million to expand game crowdfunding platform

Quote

"Video game publishing is ripe for disruption," Bailey said. "There's not a lot of new intellectual property. We're stuck in 'sequelitis.' We see crowdfunding as disintermediating publishing and bringing the public into the publishing process."
Content I found interesting this week (interviews, reviews, think pieces, history, music, culture, design, art, criticism, etc)
Game Developers Speak Up in the Face of Obamacare Repeal
Quote

"It's not farfetched to suggest that the implementation of the ACA in 2010 played a large role in the 'boom' of independent game studios"
More Stories of How Obamacare Has Affected Game Developers
Quote

And how, if it's repealed, greater hardships await them in their professional and personal lives.
Learning the Video Game Canon - How to deal with over 40 years of backlog?
Quote

I pity future game journalists, designers and researchers.

Back when I was a kid, my guru was Computer Gaming World's Scorpia, the magazine's CRPG expert (a concept I miss dearly). She was first published way back in 1983

Scorpia was skillful and charming, but she also had time on her side – she basically saw the genre be born and followed it as it grew, covering it for over 16 years. Moreover, she had the historical context of playing games on release, on an actual Apple II, Commodore 64, early IBM PC and whatnot.
The costs of developing Easter eggs
Quote

We look at the development trade-offs that come with adding hidden bonuses to games.
Looking at the tweet chain, Chris has been adding new games throughout the month and is at 46 last time I checked. Some interesting looking titles, many with beautiful and atmospheric art.
Here's How to Create a Convincing Constructed Language for Your Video Game
Quote

We speak to Paul Frommer, who created the Na'vi language for 'Avatar', about making fictional tongues feel authentic.
Study Shows Which Video Game Genres Women Play Most
Quote

To explain his findings, Yee cites his previous research on where motivations between men and women: "Genres with more women emphasize Completion and Fantasy (the top 2 motivations for women). And genres for men emphasize Competition and Destruction (the top 2 motivations for men)."

But in an e-mail, he noted that this interpretation could be reductive. Genre and gaming motivation don't explain gender breakdown with complete accuracy. Yee adds that games with few female players often don't offer female protagonists or involve playing online with strangers. "Low female gamer participation in certain genres may be a historical artifact of how motivations and presentation have been bundled together and marketed," he said.
The Scary Political Relevance of 'Metal Gear Solid 2'
Quote

In the long view of retrospect, Metal Gear Solid 2 is a strange light in the darkness. In a country that was slashing civil liberties with the Patriot Act and spinning up into two long wars, it was a breath of fresh air. Through its pageantry and (sometimes) high campiness, it told a very simple story: The people in power probably do not have your best interests in mind. They will shape you and the narratives you interact with to make their positions seem easy and normal, no matter how far afield they are.
You Guys Are the Best: Friendship and Grieving in Final Fantasy XV
Quote

It's a peculiar opening at odds with the bombastic beginnings of previous Final Fantasy games, and this difference is underscored almost immediately as your car, the elegant Regalia, quickly breaks down in the nearby desert. The boys get out to push, and their dialogue isn't the typical, stuffy Lord of the Rings melodrama you get in so many recent Final Fantasy installments. They bicker. They're sweet. And this constant chatter continues throughout the game, happens in the background all the time as you explore the world on foot or drive around, and it all, shockingly, feels true.
2nd page link is below an advertisement box.
Leaping Across the Spaces Between Us: On Relationships in Final Fantasy XV and The Last Guardian
Quote

I was immediately reminded of this cat I love by the animations of Trico, the creature who accompanies you throughout The Last Guardian. I saw so much life in his movements, so much expression of comfort or satisfaction or fear or agony, and through this alone, he began to feel like a separate entity, one with his own feelings and desires. But far more significant than this was the fact that Trico resisted me. My commands to him felt more like suggestions, cast out into the uncertainty between us. "Trico, will you jump up there for me?" I was asking. "Will you stand on your hind legs so I can reach that ledge?" The seconds would pass with me wondering if he'd even do what I'd asked.
Preserving video game history is about more than nostalgia
Quote

As the interest in gaming's impact on pop culture grows, historians and archivists are playing a real-life time trial to preserve parts of its history before it disappears forever.
I Love Astroneer For Its Optimism
Quote

Yesterday I was feeling pretty down because, well, I knew tomorrow would be today. On a lark, I decided to try out Astroneer, because it's managed to remain among Steam's top sellers for a month, which is no small feat. Turns out, it's just the game I needed.
Video games owe a lot to President Obama's administration
Quote

Could it have been, then, that Obama just happened to be at the right place at the right time?"

"Not a chance, says Erik Martin, whose role as a video game policy advisor at the White House's Office of Science and Technology Policy under Obama wrapped up last week.

"I think none of that would have happened without this president, because this president is a huge geek and put science in the right place from the start of his administration," Martin said. "He put smart people from the sciences in key position with the authority to make decisions so topics like video games had a place at the table and a chance to be used in ways that could have a significant impact."

Martin's job while at the White House was essentially to be the gamer expert for the president and his administration, something that started, and perhaps will end, with Obama's tenure.
For Brian Fargo, making games is all about 'finding your way through the darkness'
Quote

It seems like we've been doing okay at educating people on the other side about what a non-linear path it is to get these things done. Games are hard. They're fun to start! They're great to start. Finishing them is...very, very difficult. So this has been like all the other projects, with just all the fighting behind the getting these things done and complete. So, to me, I don't know if there's any one particular thing I learned from this. But I'm very proud of how it came out.
How Stardew Valley inspired the creator of Ooblets to quit her job
Quote

The makers of Ooblets tell us how it's evolved from just "Stardew Valley but with Pokemon."
A Q&A With the Creator of a 'Fallout 4' Mod That Flips the Toilet Paper Around
Quote

The first installment of an ongoing series, featuring conversations with modders that focus on the tiniest details of a game.
This just shows why I can't get into Bethesda games or the worlds they create, can't even place toilet paper properly without modder help.
I Fell In Love with Video Games By Playing 'Harry Potter' on the Game Boy Color
Quote

Everybody's history with their hobby of choice starts somewhere—and that needn't be with the coolest, most critically acclaimed first step.
Do You Have Something To Say? Make a Game
Quote

When I teach game design, there are two concepts I begin with. The first comes originally from Tracey Fullerton's Game Design Workshop, the playcentric process of game design, which basically states this: You begin with an idea. You create a prototype (a sort of functional rough draft). You play with it, and have other people play with it, and use that feedback to refine it and make it better. You rinse and repeat this process until you have something great.
THE DIVISION – AESTHETIC REVIEW
Quote

There is nothing gentle about heavy snowfall. It spills out of the sky like a breach in a dam, blanketing vision ahead to anything but the most vague shapes, the most piercing lights, everything but the most important details.
The Invisible Bunnies That Power World of Warcraft
Quote

Yesterday, I posted about a Fallout 4 mod that uses a complex, intertwining network of, er, kitties to make radios work. Turns out, game development is full of stories like that. World of Warcraft, for instance, is overrun with ghost bunnies.
Rez's Trance Vibrator Changed the Conversation About Women's Sexuality in Games
Quote

FIFTEEN YEARS AGO this month, the beautifully synaesthetic Rez was released for the first time in the United States. Beyond the Tron-esque aesthetic that helped it become one of our absolute favorites, though, the game was notable for its unforgettable peripheral: something called the Trance Vibrator.
Quote

Guest columnist Bruno Dias finds the freedom afforded by creation tools in games like Fallout 4 and Planet Coaster comes with its own kind of limitations.
Road to the IGF: Student project Lily - Colors of Santa Luz
Quote

Lily - Colors of Santa Luz is a game about a civilian trying to sneak away from soldiers that have overtaken his city. Except, that's not the most important part. There is a little girl, Lily, who wanders alongside the main character. Keeping her safe is not the most important part, either. Rather, it's about protecting her from seeing the horrors of war.
Road to the IGF: Heart Machine's Hyper Light Drifter
Quote

As we wrote about last year, Preston is one of many game makers who manages the workload of game development while managing chronic illness. In fact, his congentinal heart condition and other health issues inspired Drifter, as well as some of his work as an illustrator and designer.
Road to the IGF: Michael Brough's Imbroglio
Quote

Michael Brough's deck-building roguelike Imbroglio asks players to navigate through an ever-changing labyrinth filled to the brim with monsters and treasure in equal measure. On the surface it might sound like your average dungeon crawler, but in reality it's anything but.
Road to the IGF: Raw Fury's GoNNER
Quote

GoNNER may be a challenging sidescrolling roguelike shooter, but it's hard not to smile at the whistles, pop, clicks, and other silly noises it makes as the player moves along. Even when getting torn apart by the wobbly, chubby monsters that lurk in its procedurally-generated stages, it's impossible not to crack up at the bubbly, cheerful noises the creatures make.
Road to the IGF: Sokpop Collective's Bamboo Heart
Quote

Bamboo Heart's swordplay and story earned it an Independent Games Festival nomination for Best Student Game, so Gamasutra reached out to developer Sokpop Collection to chat about their work creating the game, how they developed the swordplay, and why it was released as part of a collective, bamboo-themed project.
Road to the IGF: Osmotic Studios' Orwell
Quote

This tale of difficult moral decisions in an age of digital spying earned the team at Osmotic Studios an Independent Games Festival nomination for Excellence in Narrative. Gamasutra reached out to Osmotic's Melanie Taylor to learn more about the development decisions that lead to the creation of this web of online personas, and how the team left it open to the player to decide the fate of someone they only know from their online profiles.
My tortured quest to become the bunny whisperer in Ultima Online's spiritual successor
Quote

Shards Online has great potential but needs just a few more months in development.
Postmortem: Rayhouse Productions' Kalaban
Quote

First off, an introduction. For anyone that doesn't know: I'm the programmer, designer and artist on this project. The game was a labor love from a core team of four guys, and it was released on December 29, 2016.
Making of Pillars of Eternity documentary is well worth a watch
Quote

Obsidian has published a documentary on the making of Pillars of Eternity - and it's well worth a watch.
The Story of Sega's First Console, Which Was Not The Master System
Quote

On July 15, 1983, the Famicom was released in Japan. The console, later rebranded in the West as the Nintendo Entertainment System, would go on to change video games forever. Did you know, though, that the Famicom wasn't the only gaming system released on that day? It was joined on shelves by the SG-1000, the very first home console manufactured by Sega.
Playing the Nintendo Playstation Prototype
Quote

An in-depth look at the story behind the creation of the Nintendo
Playstation, in addition to the story behind the dad & son team who
unearthed it for the rest of the world to see.
Quote

Watch Dogs was a huge disappointment, but in this episode of Guide to Games we look at one way that it managed to surprise us anyway.
The Tragedy of 'This Is the Police'
Quote

Tragedy isn't a genre that video games handle especially well. I'm talking about classical tragedy, a story about a protagonist that is going to lose, like Macbeth or like King Lear. You may already see where I'm going with this. Video gamers are not accustomed to playing to lose.
When violent games want you to play nice
Quote

The challenge of choices that aren't equal
Skyrim helped me fix my relationship with food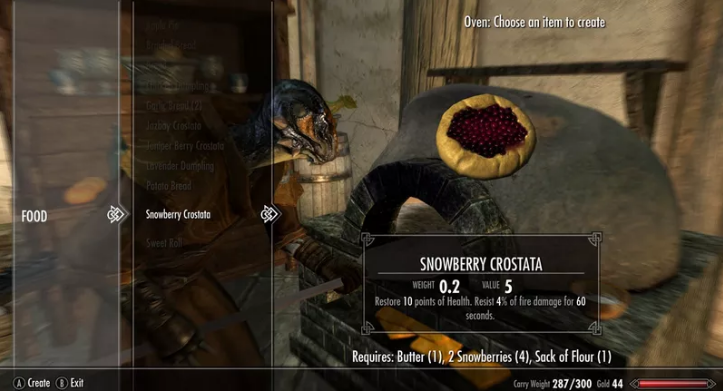 Quote

No video game, Skyrim included, had any sort of bearing on my eventual recovery; I did that. My family did that. Skyrim was an escape, a momentary lapse from the relentless math of diet that ate away at my own life. But it was a lapse that I needed, and a lapse with mechanics that unintentionally influenced letting go of my fear of food and releasing the control I clung to in my actual habits.
The Sin City game that never was
Quote

The year was 2007, and the Sin City franchise was riding high on the back of Robert Rodriguez's successful film adaptation. A small Australian games developer then known as IR Gurus and later rebranded Transmission Games - the name I'll be using throughout this article - decided it wanted in on the action, commissioning a 30-second concept video showing off what a Sin City video game might look like.
Why I'm Still Playing A Game I Don't Like, 700 Hours Later
Quote

I've written before about the psychologically exploitative game design and my obsession with the Fallout series, and how my own neurological issues contribute to some of my unhealthy habits. While I feel Fallout 4 was not specifically designed to take advantage of those who have difficulty with impulse control, I also realize the role it has played. I've put all these hours into the Fallout universe because deep down, I want to fix it.
Detention is a beautiful, creepy Taiwanese horror adventure
Quote

Explore an abandoned school haunted by strange spirits.
Crucial lessons from 7 game jam prototypes that went commercial
Quote

Making a game from the ground up in a 48-hour period can be messy, sweaty, exhausting...and a great way to shake up your creative sensibilities.
How Resident Evil became the "guiding light" for SOMA and Amnesia
Quote

We chat with Thomas Grip of Frictional Games about his horror influences and Resident Evil 7's new perspective.
William Pugh's journey from The Stanley Parable into Crows Crows Crows
Quote

[Editor's note: After William Pugh's critical and commercial success as a designer of The Stanley Parable alongside Davey Wreden, he made the choice to funnel his earnings from that game into producing free games with his new company Crows Crows Crows. We approached about doing a Deep Dive on that process, but he surprised us with something that was a little more sui generis...]
Game Design Deep Dive: Dynamic audio in destructible levels in Rainbow Six: Siege
Quote

Having great interests in technical aspects of sound, I was excited to join the game industry. I felt that compared to the well-established industry of film and TV, games offered much more opportunity in innovations and technical breakthroughs. We are only starting to tap into the potential of interactive sound, real-time mixing and new positioning algorithms, I can't wait to see what the future holds for us.
Why I love the sense of regret in Life is Strange
Quote

Anatomising the melancholy of Dontnod's episodic drama.
Quote
Inspiring documentary on Crashlands' development is out now
Quote

It's about a young man who is diagnosed with a life-threatening cancer. He's spent his professional life making so-so games. But now he wants to make his dream game. His two brothers drop everything to help him realize his ambitions. He works, even while he's going through debilitating cancer treatment.
Cool Ghosts: An Important Update
Matt Lees and Quintin Smith of Cool Ghosts talk about the humor and the satisfaction of leaving the site after a completed job that makes Hitman great.
The Legend of Zelda: Twilight Princess's dungeon design | Boss Keys
Quote

Boss Keys is an on-going research project to analyse the level design of the dungeons in The Legend of Zelda. This time, it's the turn of 2006's Twilight Princess
Best???/Recommended Games of 2016!
Quote

A more casual style video on some of the games I liked from 2016. Is this a best of? Sort of.
Strategic Uncertainty - Keeping Strategy Games Fresh - Extra Credits
Quote

Too many strategy games are over hours before you actually win the game. Once you build up enough of a lead, you have the resources you need to respond to all the game's minor challenges. The key to fixing this problem is uncertainty: hidden information or unexpected events that make you change your plans and keep the game dynamic.
Classic Game Postmortem - Marble Madness
Quote

In this 2011 GDC Postmortem, Sony's Mark Cerny gives a breakdown of the development of the gaming classic Marble Madness
The Art Direction of No Man's Sky
Quote

In this GDC 2015 talk, Hello Games' Grant Duncan explains the design process for creating the artwork of No Man's Sky
How a disabled gamer uses his feet to play Final Fantasy 14
Quote

A rare genetic disorder isn't stopping one player from exploring Eorzea.
Did Nintendo download a Mario ROM and sell it back to us? - Here's A Thing
Quote

On this week's Here's A Thing, Chris Bratt (@bratterz) looks into the possibility that Nintendo downloaded a Super Mario Bros. ROM from the Internet and then sold it back to us.
Overwatch Players Honor Fallen Friend With 12-Gun Salute
Quote

Willem Den Toom was an avid Overwatch player and contributor at the site Too Much Gaming. On January 15, he passed away. He was only 36. Still grieving, his friends decided to give him a proper send-off.
Things I found entertaining throughout the week relating to video games
Guillermo del Toro continues Konami posts
When you create an account pretend to like a game developer and their work
Things I Missed From Previous Weeks
Finding Beauty in the Weirdest Fighting Game Glitches
Quote

According to Street Fighter II's lead designer Akira Nishitani, his team implemented additional input leniency in an effort to make special moves easier to execute. But this came with an unintended side effect: players could now string basic attacks and special moves together into combinations (popularly known as combos), a feature that would go on to form the core of the entire genre.
AUTISM & EMPOWERMENT: WHAT GAMING MEANS TO ME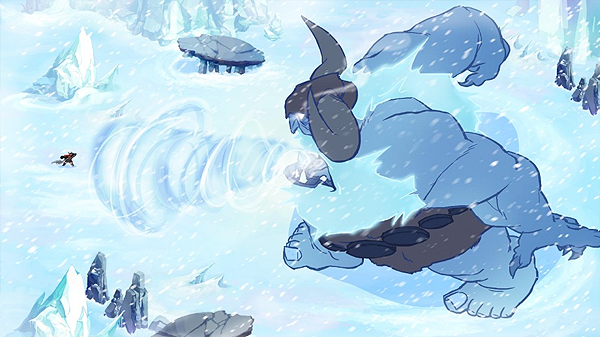 Quote

The word "empowerment" is thrown around quite frequently in discussions surrounding identity and representation in media. Seeing or reading a positive and respectful depiction of one's identity can have a tremendously beneficial impact on an individual, especially if said individual is from a marginalized community.

That being said, what defines empowerment can mean different things to different people — especially within the medium of video games.
Quote

An exercise I've been doing for the last week, once per day, is to take a piece of background art from the classic LucasArts adventure game Full Throttle and to analyze it in some detail to try and figure out why it looks good. It's the game with my most favourite aesthetic, and the process of attempting to decode the visual language used in it has proven both very satisfactory, and very revelatory. I plan to compile them into a PDF once I've completed the exercise, and I'll post it here for your perusal.
FIGHT | League of Legends Documentary
Quote

In Muay Thai, League, and life - you have to fight to win. Especially when there's a championship on the line. Tanet "Jacky" Puangngoen is a Muay Thai boxer and League of Legends player with over 3,000 games as Darius. FIGHT follows Jacky's journey as he competes in the Hong Kong Muay Thai Championship.
---